On our second day on Camiguin, we dived Old Volcano and White Island.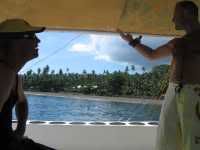 That's diggi our dive instructor and dive guide chatting with Philip, a dive instructor from Bohol.
We didn't get to take any pictures at Old Volcano because sol was carrying the camera and, having been away from diving for more than a year, diggi saw that she was having troubles with bouyancy and equalizing and he took the camera away (going back up to the surface to hand it to the boat crew) so that Sol would be able to concentrate on diving. That was certainly the right conservative decision to make. He could have handed me the camera though :-).
I always love the coral at White Island
I love the aquarium quality of White Island, and I like the simplest fish even more than the most extravagant or larger specimens, but the coral is really why one would dive White Island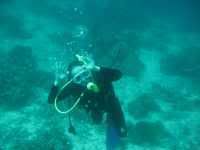 And then there's the CLOWN fish
| | |
| --- | --- |
| | |
| | |
| --- | --- |
| | |
| | |
| --- | --- |
| There's that clown fish again, always a happy diver | And a view of White Island itself, a few hundred meters away from the fish sanctuary/dive site |
I really like the CamiguinAction dive boat. It's big, fast, comfortable. A big change from the much smaller dive boats CamiguinAction used before they got this one about a year and half ago.