This is posted here because I couldn't work with the Tower insurance "email" form at http://www.tower.co.nz/contact-us. There's a 2000 character limit for "emails" there (quotes because it's a form, not email, but they refer to it as email).
I'm posting this here so I can just point at it in an "email". And the "email" will then fit in 2000 characters. Previously, I had to cut my long message into 3 parts. I was able to successfully post 2 of the parts, but the third part just wouldn't go through. The server was disconnecting the socket connection before the request could be completed. Likely just a little glitch at the web site on Friday, but still very inconvenient.
sigh, sadly I thought I'd pasted the three parts into gmail but the second part is short (looks like I pasted the wrong bit) and I'm not at home (at hotel because, well, the house is unlivable just now). So I'm going to have to redo the middle part. and while I'm at it, may as well redo the whole (but stay close to the original, or as close as memory affords).
To: Tower Insurance
This is follow up on a claim (I prefer written correspondence to phone, partly for the record but also because there are fans and dehumidifiers in my house just now and it's too noisy to phone anyone).
Please respond via email AND phone. I selected email above because I prefer the record. unfortunately it's a radio button and I can't also select phone (for summary/decision/disposition).
This is regarding claim number 77660798.
IMPORTANT: please paste the text of this message (or a link, if it's available on your intranet via link) in the claim number's records so that it's not lost. I have a copy, but if I'm going to talk to someone on your side about the contents of this message, best if they have the content right in front of them).
I called yesterday about accomodation costs for the 4 days that we're out of the house. I was informed that Tower will not cover that due to how "unlivable" is defined. This communication describes current house condition (with pictures) to demonstrate that it is currently unlivable. It *might* be arguable that one or two adults could stay in the house still (in the masters bedroom), but we'd still need accomodations for 2 adults and 2 children.
Please click on the pictures for larger versions. Depending on your browser, you might
NEED
to click on the images to view the full image (some browsers or phones may crop the images so you won't see the whole image on the blog page. clicking through will allow you to see the whole).
In fact my wife and I and our 2 sons are already booked in hotels (no 4 day stays available at hotels that have rooms for 2 children and 2 adults, so several different hotels instead). I will forward the receipts to you sometime next week in case this request for consideration that the house is temporarily unlivable is accepted.
Please note that even if 2 persons were to stay at home (reducing external accomodation costs a bit), one of them is blind. The house is pretty much unlivable for him (unless he sits on the bed and never moves away, or only when guided to the toilets). In fact my sister-in-law and brother-in-law
did
stay home since there was *one* bed in one room that was livable (the rest of the house wasn't).
1. Important to note that residents in the house are 4 adults and 2 children.
A. myself and my wife
B. my wife's sister and my wife's brother (who is blind).
C. our two sons.
2. of the four bedrooms, only the masters bedroom is livable (and in fact, that's where my sister-in-law and brother-in-law have been sleeping). There are items on the floor, but the bed can be slept in.
3. the kitchen and dining room are completely full of furniture and items from the rooms.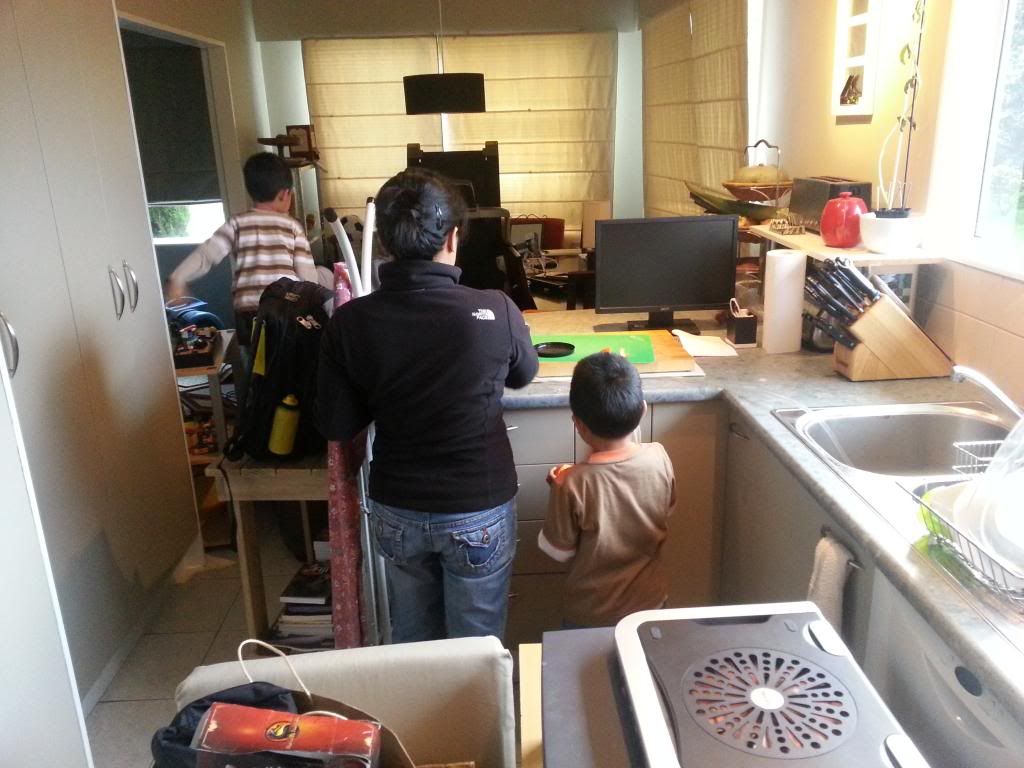 kitchen 1
kitchen 2
possible to move around in there, but you have to go over or under furniture. there's no way for anyone to sleep there. even on the couch (too much stuff on it).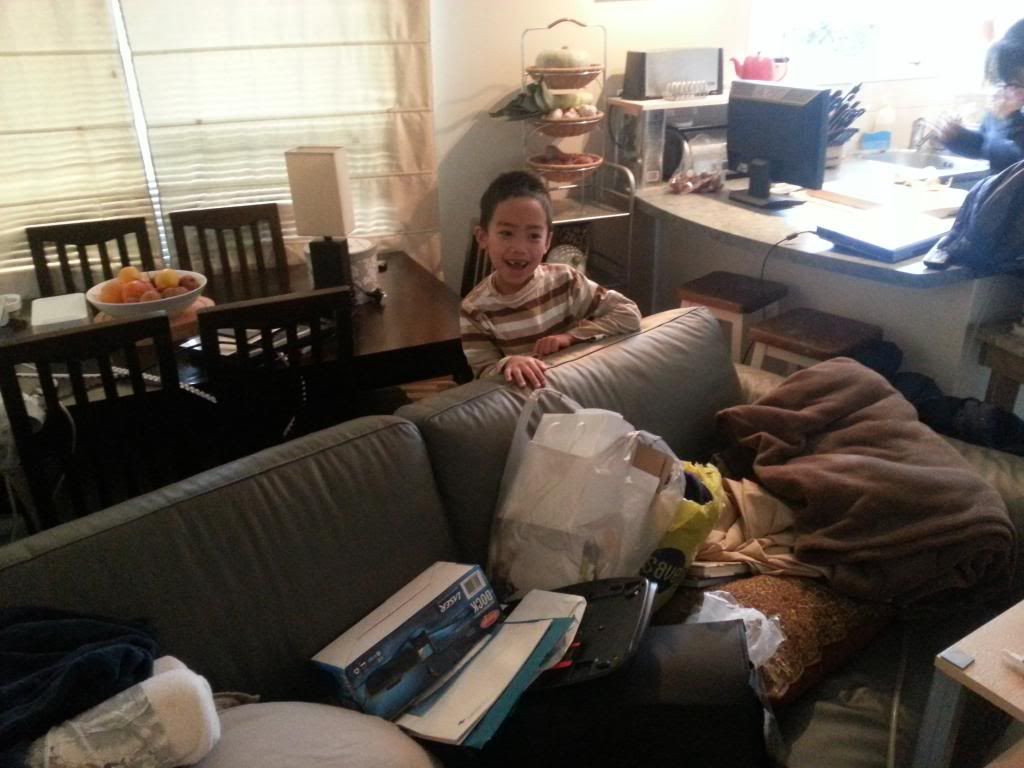 dining room -- stuff
dining room 2
4. my brother-in-law's bedroom has no bed (he's blind, remember, we've moved so much stuff out of his room he can't find his underwear and socks). bed has been moved (standing long side up, as is the mattress) to the part of the living room that wasn't wet).
no space for bed in my brother-in-law's room
5. the carpet in the living room is floating up because of the fans and dehumidifiers.
living room 1 -- fan
note the base molding. it's on the floor. the other base molding (in the hallway was removed although there are still nails in there (the molding was removed by JAE, I can remove the nails, but the molding will have to be put back or (if too damaged for that) replaced.
living room 2 -- note mattress and bed
note the floating carpet and my brother-in-law's bed.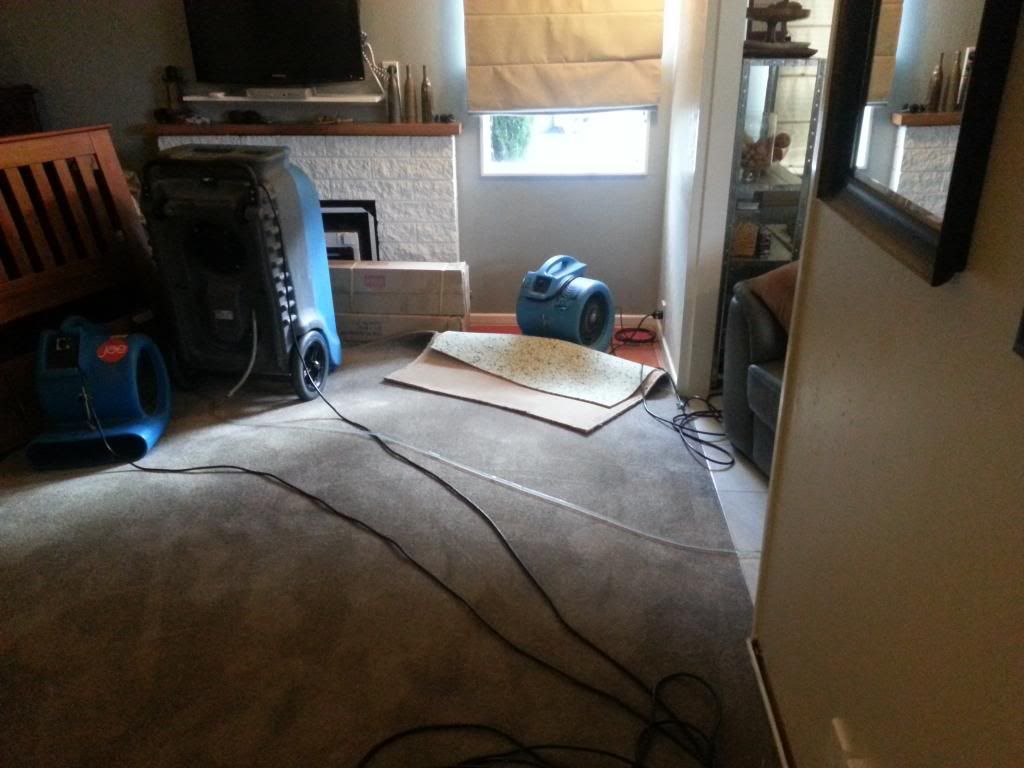 another perspective
6. the children's bedroom was the one most wet (because right in front of bathroom). note furniture and clothes on the beds. there's no space for it in the dining area. some of it could fit in the kitchen, maybe. but still, with the dehumidifiers and fans in the worst hit room in the house, children should not sleep there. in this picture the base moldings haven't been removed (not sure why, I'll ask JAE on monday).
children's 1
children's 2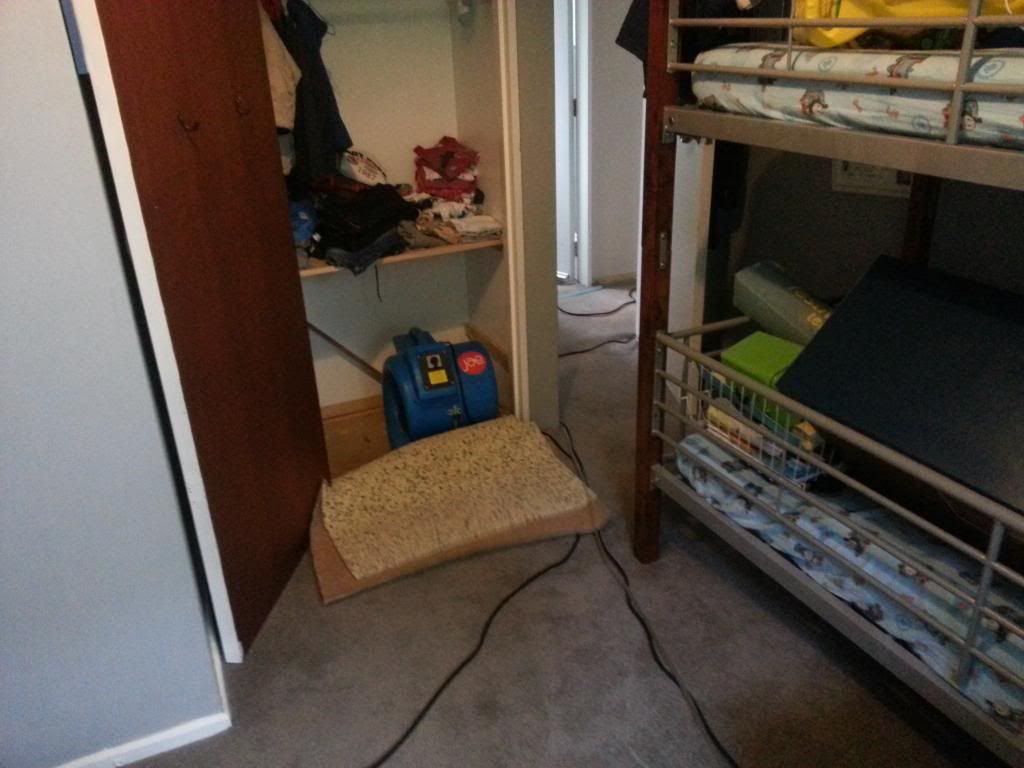 children's 3
7. the other small bedroom (two beds and a tallboy).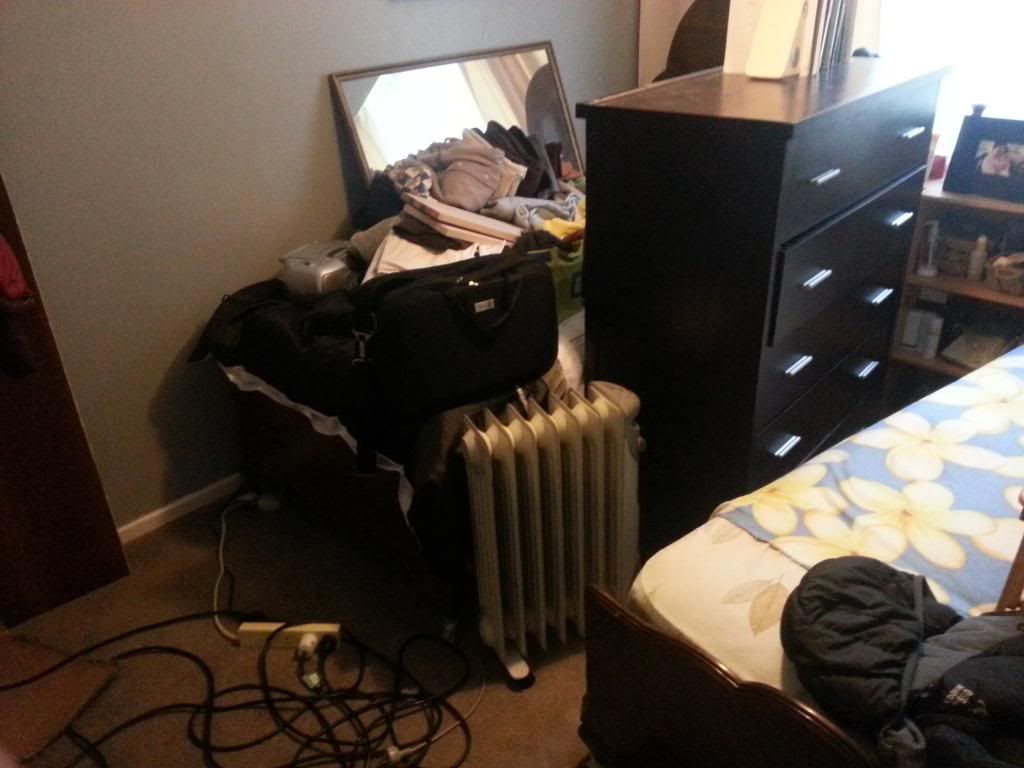 other small double 1
other small double 2
one person could sleep in the bed on the right. but I think my sister-in-law slept in the masters bedroom instead. sharing the bed with my brother-in-law. 8. This view is of the un-wet parts of the room. still stuff on the floor, but in that one room it was possible to sleep (there was still a fan and dehumidifier. they might have turned those off at night, not sure, I wasn't there.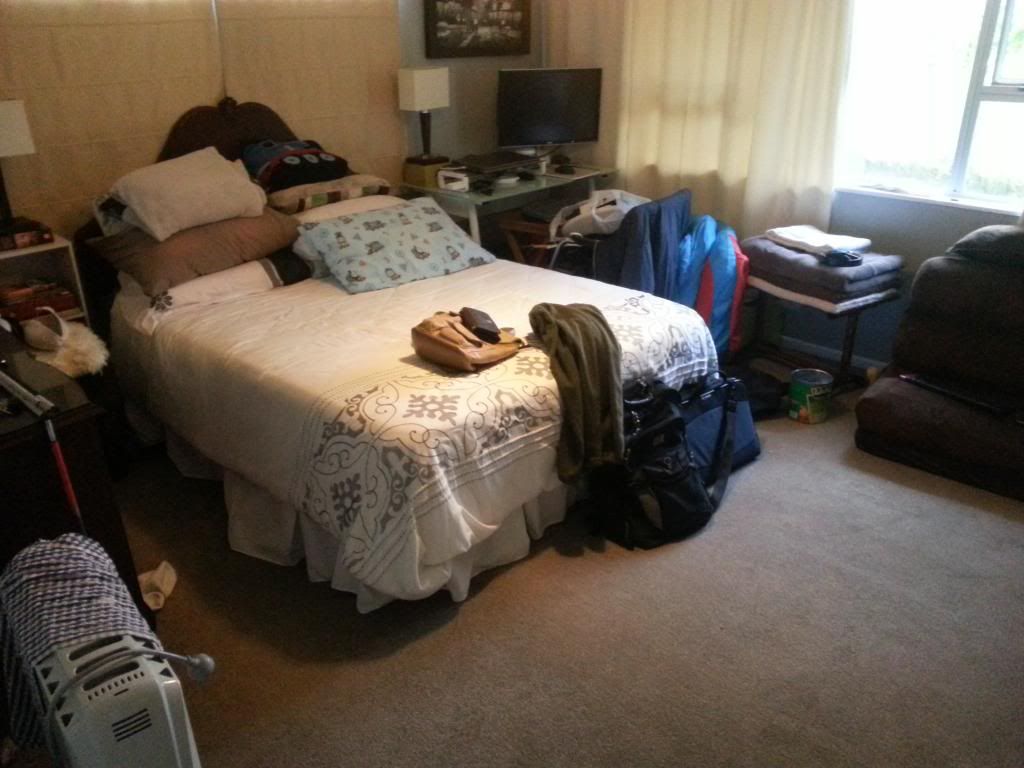 livable master bedroom 1
fan just behind the door in the master bedroom. possible to squeeze in through a half-open door.
9. Part of the base molding in the living room was taken down but it's still in the living room with nails on it. I could have removed it so not so dangerous.
10. The base molding in the hallway was removed. But the nails are still in the wall. I didn't want my children around that, so we moved to hotel accomodation on thursday and through to sunday.
we're extending to wednesday because we're not sure how repairs will go next week (when it'll be safe for children in the house). I could have remove the nails from the wall, certainly, but the rest of the house still wasn't livable for children so I left it for builder/handyman to do (I'm neither).
Also, was rushing doing work from home, getting the children, bringing them to hotel, moving from one hotel to another, etc. There was so much electrical extension cord (for fans and dehumidifiers) and water hoses in every room and in the hallway and living room that I didn't want children in the house over the weekend.
As it happens my sister-in-law and brother-in-law stayed in the house thursday to sunday (because they stayed in the one livable room) although I think my brother-in-law shouldn't have stayed there (he's blind, so danger of tripping over all manner of equipment or getting a wound from the nails in the wall).
Thank you for your time. Is there an email address I could use to continue this conversation? Your "email" form is difficult to use. In fact in my first try at pasting this (in 3 separate forms, to get past the 2000 character limit) I couldn't paste the third part of my documentation and have now posted it on my blog instead so I could get by with just posting a link to the blog instead. '
NOTE, JAE said an assessor would be assigned and would contact me. I have not received any such contact yet and it's Sunday now. Am available next week. Would like to have everything sorted by next week to minimize hotel costs (either for you, or for us, depending on whether the pictures above are sufficient to demonstrate that the home is unlivable.
Also, a builder will need to replace base molding that has been removed (unless JAE put them back, unlikely if water damage). But I'll work with you (or your preferred builder) on that after the carpet is all back to normal. I have no confirmation from your web site that the first two installments were received (and the third just kept failing with server disconnect), so I don't expect confirmation about receipt of this one either.
I (or my wife, she may take over coordinating with you tomorrow) will call you tomorrow to check whether the message pointing to this blog post was received and whether it's been integrated into the claim record so CSRs can refer to it. I do hope this is integrated into the claim record, otherwise much time will be wasted, on your part and ours.
Thanks you very much,
Gerald Quimpo