We arrived in Wellington, New Zealand on the 10th. It's the 23rd now, so we've been here around two weeks.
Here's a compilation video of timmy at manila international airport (you don't want to miss that part), and walking through the airport at Sydney.
We were very lucky to be put in touch with very good friends of Sol's best friend, they have a four bedroom house and are only using three. So we're on a homestay with them until we can get an apartment of our own.
Here are some views of the house, from the outside and looking out the dining room window into the front garden.

And views of the houses around us.

Sol was trying to take a picture of our room when someone popped his head into the frame.

We have half (a very generous half, since our host family is MUCH larger than ours) of the refrigerator. So we shop often (twice a week, or sometimes more frequently) since we need to refill our provisions when our half of the refrigerator approaches empty, or when we're running low on timmy's milk.
We bring Timmy because we both have to be there, so we don't forget anything, and because we can load up his stroller with heavy items, with me carrying the rest of the items for the ten minute walk uphill and home. He had a yogurt snack the first time we did that.
Timmy is an early riser. Normally I would resent that since I'm certainly not a morning person. However, he always wakes up smiling and makes the mornings lovely.
We were concerned about the milk (or formula) that Timmy would drink in NZ. We tried to get him to drink milk in Manila and the first time that failed (my mother-in-law couldn't stand his protests so she gave in and made him formula). We later gave him fresh milk and formula mixes and he was OK with those. We weren't sure how he'd react to NZ milk though, so we bought a can of formula and we researched brands of formula available in NZ, and what the equivalent of our manila formula was here.
It turns out that there was no problem. He loves the milk here and he drinks it better than he did his formula (he would often leave an ounce or more of formula in the bottle, here he drains the milk to the last drop).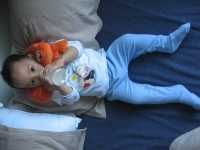 And then he sleeps it off.
We've been here two weeks now. Last Thursday, Sol landed a job with
Catalyst IT Limited
, a specialist in open source technologies. We've got the first few hurdles, ahhh, hurdled. We're now working on finding the right apartment for us. That's a bit hard because we're not very mobile (with Sol starting work tomorrow, and not having a car or being able to drive here). Fortunately, we have had incredible help from Sol's best friend and her husband. Julius has been driving us all over Wellington in our search for an apartment. It'll probably take another week or two for us to settle on the right place. But luck has been with us so far, so maybe the streak will continue and we'll have a place by this week.