On Feb 2, 2008, we had a despedida (going away) party at the Richmonde hotel. This was the same hotel we had Timmy's birthday party at. We certainly didn't have the budget for a function room though. We just rented a two room suite (with dining area, living room and kitchen) and had the party there.
We were concerned it might become standing room only, but it all worked out and while some did have to stand, the flow of people was such that we didn't really have the same people standing for hours.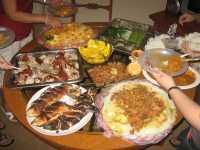 The theme was "food we'd miss in NZ", so there was mamang's wonderful kare-kare, Amber pancit malabon and another white pancit, mamang's rellenong bangus, a lechon from cebu, malasugui sashimi (it was going to be kinilaw, but Sol changed her mind) and the piece de resistance (hehe, I don't know how to type accents in this textbox, and wouldn't be bothered to do so if I knew how), isaw baboy and isaw manok from Manang, in U.P. Diliman (isaw not showing in the picture, as, I think, Jack and his wife, who went and bought it, hadn't arrived yet).
We had a good mix of people I'd worked with, good friends and cousins of mine, and good friends of Sol.
I was very happy that we were very lucky, that diggi (from
CamiguinAction
) just happened to be passing through Manila and he brought Jaime, Julia and Paco.
There were a few babies there too, so Timmy had a good time walking around with them.
and of course, there was the penguin stuffed toy, now called "Hug" since he taught Timmy how to Hug (something he does enthusiastically now, almost exclusively to women, and when he says "Huuuuuuuu" while doing)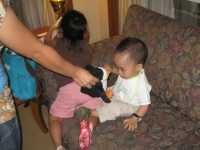 Timmy was also able to say goodbye to his maternal grandfather, whom he doesn't see enough