When we arrived, we stayed with friends of friends. They are lovely people and it's a great home, a good place to stop and take a breath. But it's never very comfortable staying with people I've never met before so we were in a rush to get a job and move into our own home.
Sol got a job at
Catalyst IT
two weeks after we arrived. This was a blessing descended from a long chain of blessings that started with an email post about postgresql. With the help of sol's best friend and her husband, we searched for a house to rent, drove around for three weekend-days looking at homes (thanks Julius!) and finally found the perfect little home from a web advertisement (thanks Arlene!). Our debt to Arlene and Julius are no longer within reach of our ability to repay, and as Jun Yamog says, the best we'll be able to do is pay it forward.
Our home-to-be wasn't going to be ready for another two weeks (it was being renovated) so we stayed on for two more weeks at our homestay, and we spent a heck of a lot of money buying our bedroom suite (Queen Anne bed, base and headboard, along with two bedside tables and a great dresser).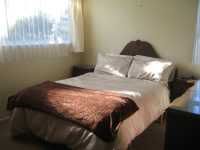 We were able to get the bed into the house two days before we moved in. When we moved in, all we had in the house was the bedroom suite, Timmy's crib, and the oven and dishwasher (which came with the house, although they're a bit old). We'd previously ordered a refrigerator, washing machine and dryer though (brand-new since we intend to stay here for a few years, and bring the whiteware with us when we move). Those arrived the afternoon after we moved in.
| | |
| --- | --- |
| | |
| Timmy | Had to eat on the kitchen countertop |

Quite a few snacks later...
Our second purchase from Trade Me (our first was the bedroom suite) was the dining set
On the same trip that another friend, Barry, helped me pick up the dining set, we also picked up a pair of lounging chairs. One is a lazyboy/rocker. The other just rocks, it doesn't recline. We use the second (rocker only) in Timmy's room because it squeaks less than the recliner. Both are in good condition, but less squeaking is important since we rock Timmy to sleep in it.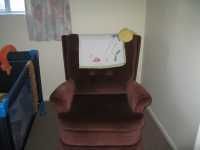 A week or so after that, we also bought a living room set, one 3 seater, two single seats, and a single rocker (not shown).
We still need a double bed (or two single beds) for the other double room and then I think our furniture buying Trade Me days will be over. Although Sol is still on the lookout for better looking curtains and I'm currently on the lookout for a
Linksys NSLU2 :-)
.